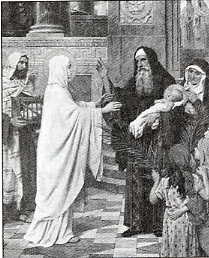 Introit:

John 19. 25, 26-27

. There stood by the cross of Jesus, His mother, and His mother's sister Mary of Cleophas, and Salome and Mary Magdalen.

v

. Woman, behold thy son, said Jesus; to the disciple however: Behold thy mother.



Collect:

O God, at whose Passion, as Simeon foretold, the most sweet soul of Mary, Thy glorious Virgin Mother, was pierced by a sword of sorrow; mercifully grant that we who reverently mediate upon her sorrows may reap the happy fruit of Thy Passion.



Sequence:

Stabat Mater.



Communion:

Happy the senses of the blessed Virgin Mary, which without dying earned the palm of martyrdom beneath the cross of our Lord.